USMC/Combat Helicopter & Tiltrotor Association has established its' own scholarship program for children/grandchildren of current POPASMOKE members and for spouses of active duty who are paid members. Eligibility, Frequently Asked Questions (FAQs) and application are below.
The current active scholarships endowments are in the name of Ernesto "Gooie" Gomez, Morphine 1-2, The Master Gunnery Sergeant and Mrs. Dot Easter, and LtCol Bruce and Mrs Jeanne Colbert.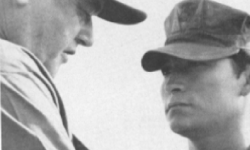 Ernesto "GOOIE" Gomez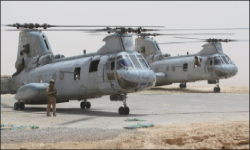 Morphine 1-2
The Master Gunnery Sergeant and Mrs. Dot Easter LtCol Bruce and Mrs Jeanne Colbert
Lance Corporal Ernesto "Gooie" Gomez, while serving with Marine Medium Helicopter Squadron 262, Republic of Vietnam was awarded the Navy Cross for extraordinary heroism against enemy forces. On 25 January 1968, LCpl Gomez was the Crew Chief aboard a CH-46 transport helicopter assigned an emergency medical evacuation mission on Hill 881 near the Khe Sanh Combat Base. While in the zone he observed two Marines leading a casualty, whose head and eyes were covered with bandages, toward the helicopter. The entire landing zone was subjected to intense enemy fire and at that time LCpl Gomez left the aircraft to assist the wounded Marine reach the aircraft. Shielding the injured Marine with his own body, LCpl Gomez was able to get him aboard.
On February 7, 2007, a CH-46 helicopter flying with HMM-364, the Purple Foxes, was on their last casualty evacuation (casevac) mission of the day in Iraq when they were shot down by insurgents. The helicopter crashed and seven American heroes lost their lives – Capt Jennifer Harris, 1stLt Jared Landaker, Sgt Travis Pfister, Sgt James Tijerina, Cpl Thomas Saba, HM1 Gilbert Minjares, HM3 Manuel Ruiz. In a twist of fate, this Morphine 1-2 crew in Iraq was flying a memorial flag for the Purple Fox crew of YK15 who were shot down on February 7, 1969 in Vietnam.
Master Gunnery Sergeant Easter joined the Marine Corps in March 1943. Served with various squadrons to include HMX-1 and combat duty in the Pacific and Vietnam. A leader, teacher, mentor, friend and American Hero. Throughout an illustrious career, MGySgt Easter influenced and touched many. The epitome of a Marine, during the 2016 POPASMOKE reunion, the Easter family established an endowment to support the scholarship fund. The POPASMOKE Board of Directors, in recognition of MGySgt Easter's faithful service to Corps and country as well as the Easter Family's generosity in support of the Scholarship Fund, unanimously approved identifying one of the scholarships in their name as a continuing remembrance.
To keep this program viable and benefit future recipients we are accepting additional funds to augment current endowments. Donations can be earmarked for one of the three current scholarship or sent without designating a specific endowment.
If interested in establishing a separate endowment in memory of an individual, unit or separate organization contact skatz@popasmoke.com for info.
Donations can be made with membership renewal, by PayPal or sent to the Association home or Admin office.